1. Safety First! Includes physical, emotional and spiritual.
2.

Respect

 For everyone, the camp and creation.
3.

Commitment to Spiritual Birth, Growth and Renewal

for everyone.
4.

Make and grow meaningful friendships

.
5.

Have Fun

.
These Core Values are how we ensure meet our Mission.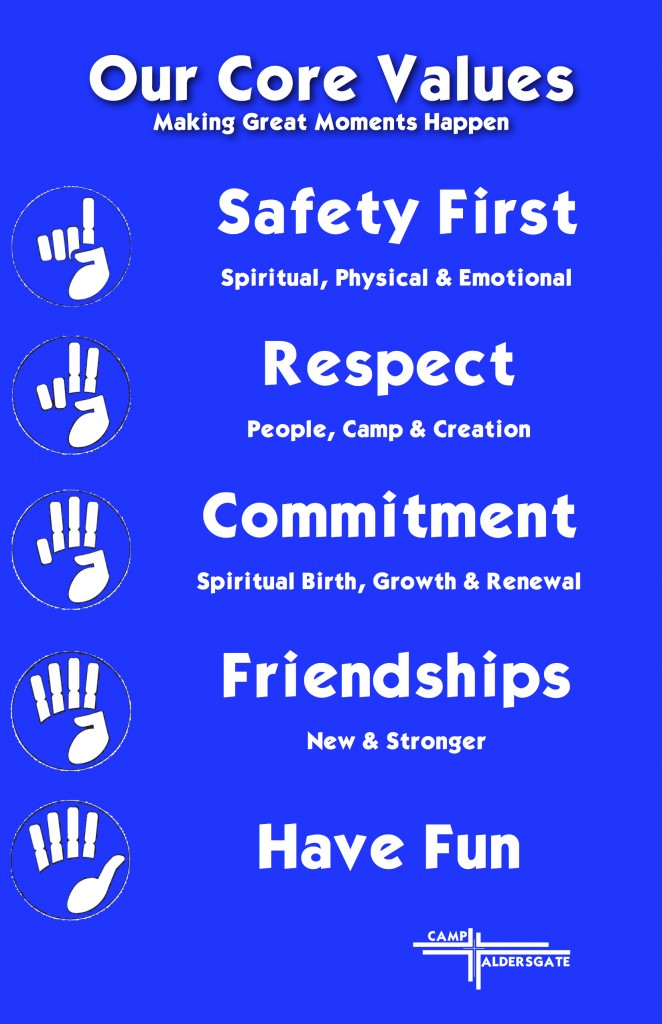 These Core Values are at the center of our P.N.M. Which is how we define our brand.
P stands for Place. Everyone who experiences Aldersgate, knows we are a special place set apart by God in his Creation.
N stands for Name. Our name, Aldersgate, is the street in England where John Wesley had his "heart strangely warmed".  He went on from this one experience and founded what has become the United Methodist Church.  In the history of the United Methodist Church, millions of people have been impacted through our local churches, hospitals, orphanages, missionaries, camps, universities and more.  From one "heart warming" experience, the world has been changed.  We want every camper, guest, staff and volunteer to have their heart warmed so their worlds may also be changed for better.
M stands for Mission. Our Mission is to Help People Experience and Share the Love of Jesus Christ.  We will challenge all of our campers and guest to take what they learn and experience at Aldersgate into the world.